Listen To This Article (00:18:55)
[Scroll down just a little to see the actual video demo of 6 tools in action…]
Snack size or micro content can be created in a variety of formats, but one approach to developing engaging micro content that is most common is short form text. That's right – plain ole' words.
The most likely platform you will see short form text as a form of micro content is social media. Think Twitter, as an example. But you will also find short form text in just about anywhere you read an article, watch a video, or listen to a podcast…in the form of headlines.
Why Headlines Matter
Headlines are a tremendously important type of short form text because headlines typically are the first words you see as you scan a page. They are intended to catch the eye and draw a reader into the material so that they consume more of the information.
Headlines can make an emotional connection, enticing the viewer to fall in love, laugh aloud hysterically, or hate the writer all in just a few seconds. They are super versatile and can be use in many different ways.
Most of all, headlines spark curiosity which is what makes them one of the most powerful forms of snack size content around.
6 Free Headline Generators (Watch the Demo)
While you might see headlines and other micro content everywhere, it's important to know that writing in this short form manner is a highly desired skill. Many entrepreneurs try and fail miserably to figure out the best way to write this way. It's no surprise then that if you just do a quick Google search, you will find tons of formulas and templates.
I've collected a few of my favorite headline generators online to share with you in this post.
The Best Headline Generator Tools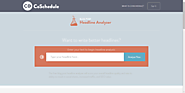 Developed by the fabulous people at CoSchedule, a really cool editorial calendaring service. Use this free headline analyzer to write awesome headlines for blog posts and email subject lines that drive social shares, traffic, and SEO value.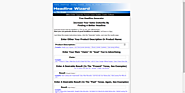 Everyone knows that the Headline is 75% of your ad's effectiveness... Now you can generate dozens of great headlines in minutes, not hours or days.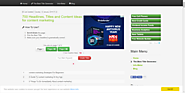 [*Warning: lots of ads on this page but if you can get past that it's useable] Use the Title Generator to create 600 of titles with ONE CLICK: Content Ideas + Catchy Headlines + Ad Campaign or E-mail Subject Lines + Emotional Titles. Simple - Efficient - One Click. Other Tools: Powerful Numbers, AdSense Calculator.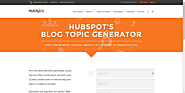 Just got a week's worth of custom blog ideas from @HubSpot's free Blog Topic Generator! Try it out: http://www.hubspot.com/blog-topic-generator [*I love this one. Easy to use just like many of the Hubspot tools. Type in 3 nouns and get back a long list of possible blog topics/headlines you can save!]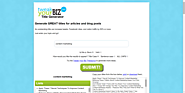 Article title idea generation based upon Topical Brainstorm by Liam Delahunty & Anita Campbell
My all time favorite! I don't know why but it's much more fun to use than some of the others. You will generate strange but interesting, eye-catching titles here. Just try it and you'll see what I mean.
Learn Advanced Headline Techniques to Stand Out
These headline generators will certainly get you through if you're in a time crunch. They will save you hours of time!
However, if you really want to learn to write great headlines, it is more of a mental exercise than you might think. Recently, I took a course from the amazing Sean D'Souza of Psychotactics. It was highly intensive and almost like taking one of my Master's level classes when I was working on my MBA.
Sean is one of THE best in the industry when it comes to creating results-driven copy and he made it clear that templates and formulas might work in the short run, but learning how to write them yourself can absolutely set you above the average marketer.
So just in case you want to go a little deeper than the formulas, here is a list of some of my favorite courses on how to write short form content and other types of content great for online engagement:
I hope you will look into these if you are serious about learning how to write great online copy. Enjoy!